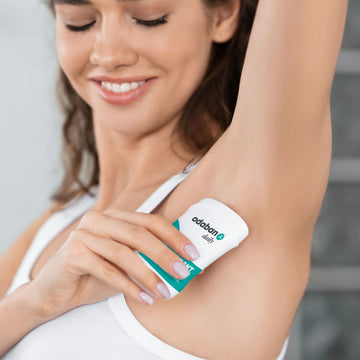 Antiperspirant Deo Stick
Stops sweating and cares for the skin
In collaboration with ODABAN, we have exclusively developed the effective anti-perspirant deodorant stick for daily use.Thanks to its unique formula, it instantly protects you against sweating while gently caring for your skin.It is optimised for underarm use.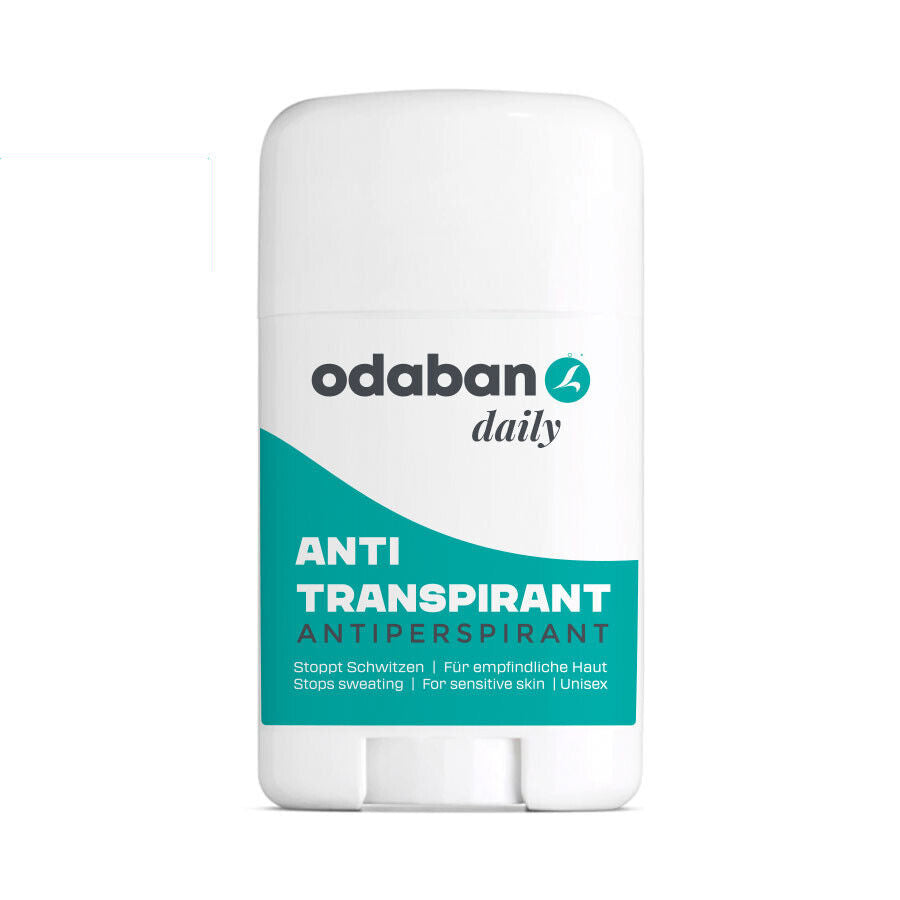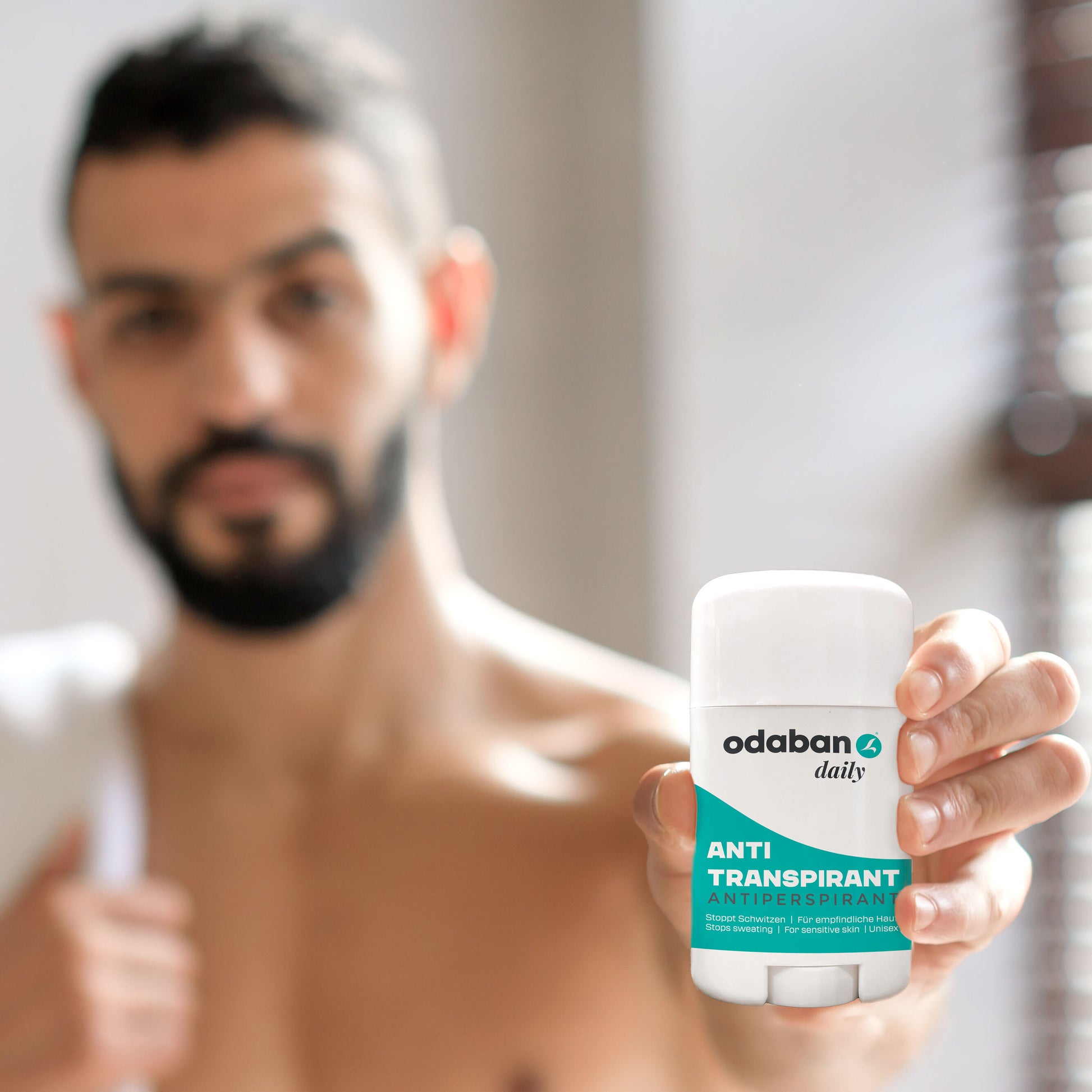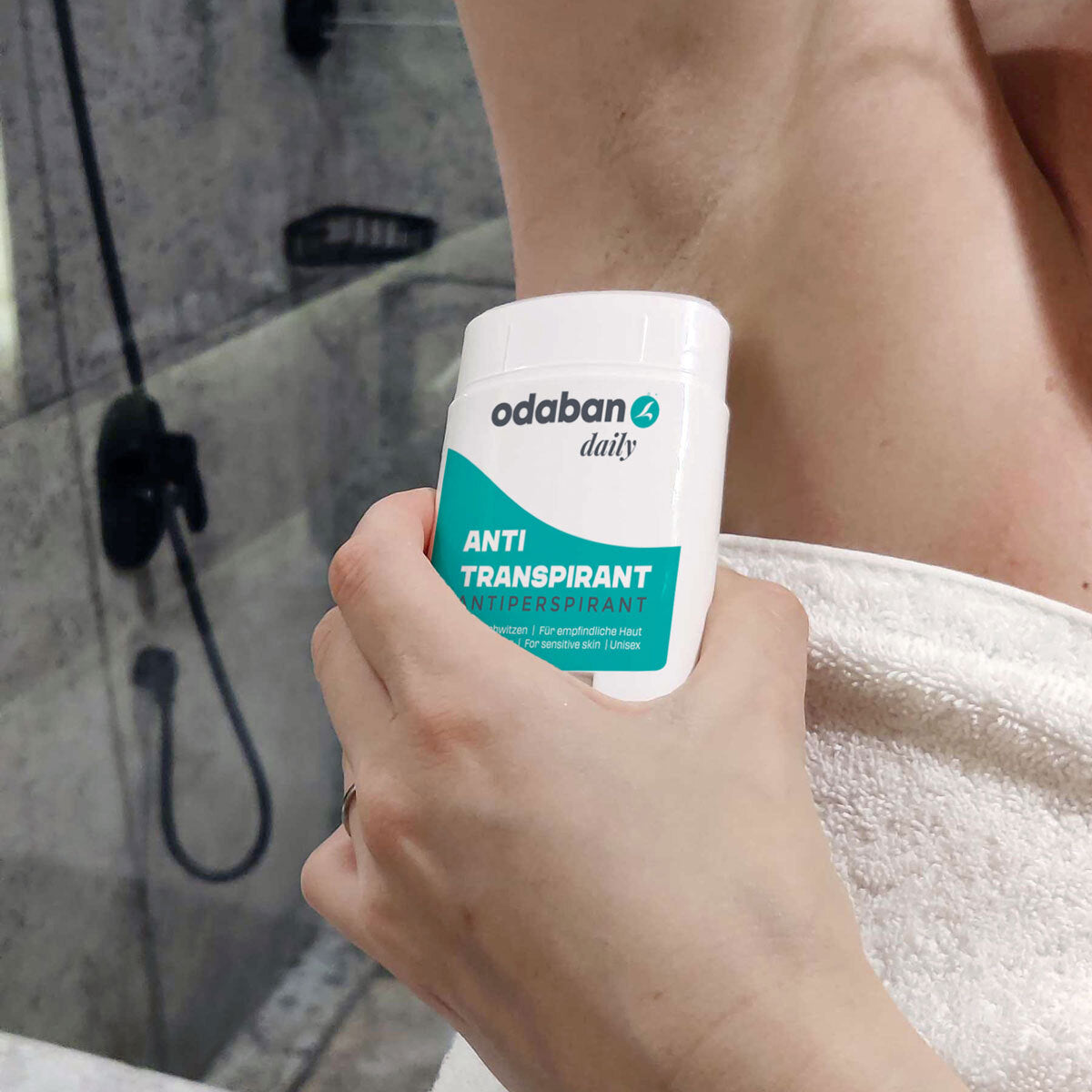 odaban® daily Antiperspirant Deo Stick
✅ Designed for sensitive skin
✅ Effective protection against sweating
✅ With nourishing ingredients
✅ Discreet unisex fragrance
✅ Safe to use
✅ For daily use.
ℹ Our tip: The odaban® Deo Stick is an ideal combination partner for the odaban® Spray.
Sale price
$12.00
Regular price
$16.00
In stock - at your door in 2-3 days
odaban® daily Antiperspirant Deo Stick
Sale price
$12.00
Regular price
$16.00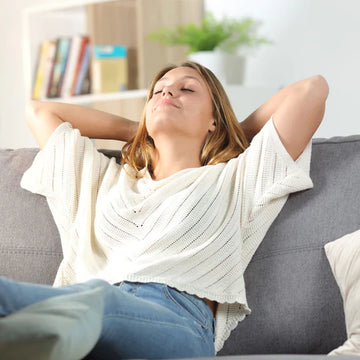 Effective already after the first application
Sweating is effectively regulated after just one application. The carefully balanced formulation also gently and reliably protects against skin irritations such as burning or itching. Numerous skin clinics and dermatologists therefore recommend Odaban® products even for heavy sweating.
Why ODABAN® deodorant stick is the solution for you
As an anti-perspirant deodorant stick for daily use, it is optimised for use on the armpits.
Odaban's safety now confirmed by BfR (Federal Institute for Risk Assessment) Who is not familiar with the recurring debate about aluminium in antiperspirants? At regular intervals, consumers are confronted with negative headlines suggesting an alleged link between aluminium in antiperspirants and an increased risk of developing breast cancer or Alzheimer's disease. The German Federal Institute for Risk Assessment (BfR) has now published a reassessment on aluminium-containing antiperspirants from 2020, which concludes that adverse health effects from regular use of antiperspirants containing ACH are unlikely based on current scientific knowledge. Read for yourself:




Read for yourself: Download Studie (PDF)
CYCLOPENTASILOXANE, ALUMINUM CHLOROHYDRATE, STEARYL ALCOHOL, TALC, PPG-14 BUTYL ETHER, HYDROGENATED CASTOR OIL, OCTYLDODECANOL, TOCOPHEROL, BHT, PARFUM.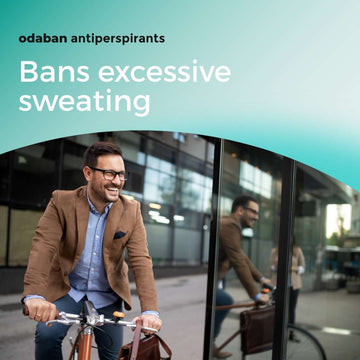 HYDONIS by ODABAN®
Anti-perspirant Deo Stick
The tolerable everyday antiperspirant without an intrusive fragrance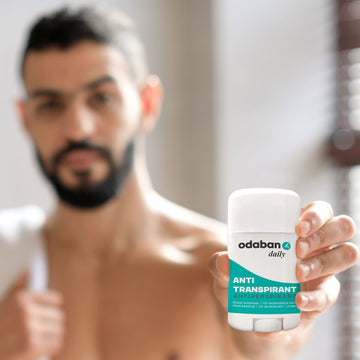 The stick is especially designed for application to the armpits.



Odaban antiperspirant is a "cosmetic product". According to the law, cosmetic products must always be safe. Also for expectant and breastfeeding mothers. Odaban was subjected to several safety assessments before it was launched in Germany, all of which were positive. You can therefore use HYDONIS by Odaban antiperspirant without hesitation during pregnancy and breastfeeding.

Phthalimidoperoxycaproic acid (PAP) - An active bleaching agent that lightens the discoloured molecules in your tooth.
PVP - Prevents stains from sticking to your teeth in the first place!
Hydroxyapatite - Hydroxyapatite has been shown to enhance cavity remineralisation.
An antiperspirant should not be used during the day. This has the simple background that people sweat more during the day. As a result, the active ingredient aluminium chloride reacts with water to form a by-product and unpleasant skin irritation can occur. It is therefore not advisable to use the product during the day. It is also not advisable to use an antiperspirant after a freshly performed underarm shave, as this leads to extremely small injuries of the skin surface and can cause skin irritation after the application of an antiperspirant.



A very important aspect when using Odaban antiperspirant is that the skin must be absolutely dry at the time of application. There should be no residual moisture left in the armpit. If there is still residual moisture in the armpit, the effect of the product cannot develop optimally, and the residual moisture can also cause skin irritation, itching or burning. Many users who use Odaban antiperspirant for the first time often have the problem that they still sweat a little in the evening, i.e. that a certain residual moisture can hardly be avoided. In this case, we recommend applying Odaban antiperspirant immediately before going to bed and drying the armpits beforehand with a little talcum powder or a hairdryer. This way, you can ensure that there is no residual moisture left in the armpits.

Another mistake that is often made during application is that too much Odaban antiperspirant is applied per application. 1 wafer-thin layer per armpit is perfectly sufficient. For sensitive skin, we always recommend application via a cotton wool or cosmetic pad. Please wash off product residues normally the next morning.

Odaban antiperspirant should only be used once or twice a week after an "initial protection" has been built up.

In addition, Odaban antiperspirant should not be used too frequently, as this will prevent the spray from achieving the desired effect. The reason for this is that if used too often, the sweat gland outlets will be completely "blocked". The sweat that accumulates behind the blockage will eventually break through this blockage. Consequently, increased sweating occurs again.

Should this nevertheless be the case, Odaban antiperspirant must not be used for a period of about two to three weeks. After this application-free interval, the effect will be the same as at the beginning of the application.

Odaban thus remains a very effective, safe product for a long time.